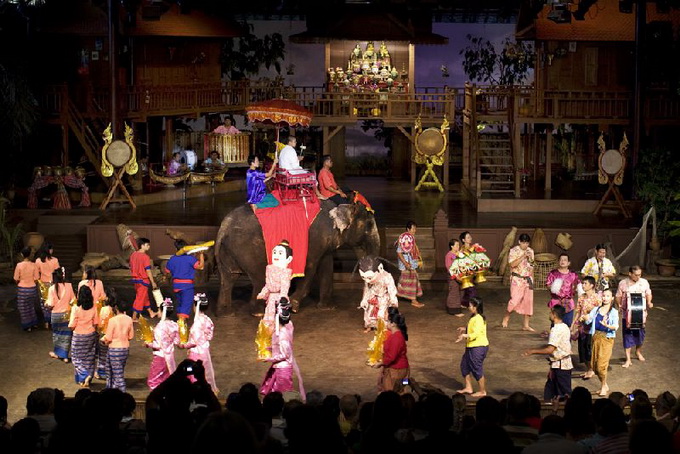 Sampran Riverside (formerly known as Rose Garden Riverside)

is a family-run property close to Bangkok, where visitors can experience authentic Thai way of life and learn about our local wisdom. For decades it has been considered one of Bangkok's favorite attractions because of the obvious dedication to preserving Thailand's natural and cultural heritage by engaging with the local community. It all began in 1962, when one family cultivated roses to supply them to Bangkok flower markets and their garden of blossoming roses attracted visitors who then referred to the place as 'Suan Sampran' or 'the Rose Garden'. Since then, with the family's unique vision and under the care of three generations, Sampran Riverside has grown gradually to a 70-acre riverside property that is more like a community rather than a 'typical' resort.
Our unique Thai Village within the property is where most daily activities take place that showcase aspects of Thai tradition and culture.
Morning Workshops
Every morning from 10:00hrs to 12:00hrs, guests can take part in over ten arts and crafts workshops dotted around the village. The visitors are free to roam around and try out these activities, each one in their own pavilion stations such as traditional weaving, rice farming, bamboo dancing, Thai martial arts, garland making, traditional pottery, traditional Thai kitchen, umbrella painting, Thai herbal compress making and much more. There are trained staff at each station to demonstrate the activity and provide information so you are able to obtain a full hands on experience. There are also elephants available for those who would like to take a short break to ride them.
Thai Village Show
The Thai Village Cultural show at Sampran Riverside is the longest daily running show in Thailand and takes place in a classic air-conditioned theatre. Live traditional Thai music accompanies the performance that highlights the Thai way of life, reflected through everyday activities, festivals and traditional celebrations. The show is then followed by a brief elephant demonstration outside the theatre.
Showtimes:
Thai Village Cultural Show, daily 14.45
Elephant Demonstration, daily 14.15 and 15.30
Payment by cash to driver as follows :
Description
Walk in Rate THB

Net Special Price THB

'Living the Thai Culture' Art & Craft Workshops


Daily 10.00-12.00 hrs.

600

400

'Living the Thai Culture' Art & Craft Workshops with lunch
Daily 10.00-14.30 hrs.
900

750

Thai Cultural Show & Elephant Demonstration
Daily 14.15-15.35 hrs.
600

400

Thai Cultural Show & Elephant Demonstration with lunch
Daily 11.30-15.35 hrs.
900

700

'Living the Thai Culture' Art & Craft Workshops ,
Thai Cultural Show & Elephant Demonstration with lunch
Daily 10.00-15.35 hrs.

1,500

1,000

Private Round Trip Transfer


Toyota Camry (Maximum 4 persons)
Toyota Commuter (Maximum 10 persons)

2,000 BAHT
2,500 BAHT

Child under the age of 3 year is free
Children aged 3-12 will be granted 50% discount for all programs.
- Customers can get more details here. www.sampranriverside.com