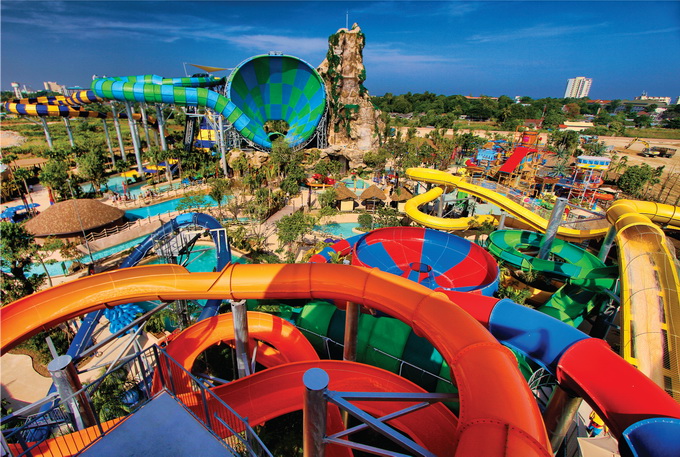 Introduction to Water Jungle
Vana Nava Hua Hin, Asia's first Water Jungle is located right in the heart of Thailand's most renowned resort town of Hua Hin. Claiming to be the first ecologically and community aware waterpark in the region, Vana Nava Hua Hin has literally transformed an empty plot of land into a tropical jungle, with over 200,000 living species from across Thailand in its 20 Rai (3.2 hectares) property. Combining state of the art technology and modern facilities with 19 very exciting rides and slides from the World's best, WhiteWater West industries, exciting Vana Nava Hua Hin is set to make a very big splash in Thailand's tourism industry.

From the largest slide in Thailand, the Abyss, to the tallest man made mountain with waterfall in Asia, Vana Nava Falls, we have it all.

With year round events, day and night entertainment, a wide range of dining options and a whole lot more, Vana Nava Hua Hin is uniquely positioned to become one of the best family leisure destinations in the region. Moreover, as the only waterpark in Thailand that adheres to the strictest international safety standard and lifeguard provision, Vana Nava Hua Hin can ensure a "fun without fear" experience to all our visitors. Also, thanks to a proprietary RFID and data management technology that allows our customers to pay cashlessly, share and order photos captured within the park, our visitors can enjoy the day without having to worry about cash, cameras or mobile phones.

All of our buildings have been craft fully designed, topped with an iconic roofing structure in order to create a great, never felt before ambience. Together with other interactive facilities such as LED lighting in all the pools, game arcade, shops and massage pavilion, Vana Nava Hua Hin promises to deliver a splashtastic fun to thrill and chill seekers of all ages.
Payment by cash to driver as follows :
Description
Walk in Rate THB

Net Special Price THB

Adult

Child(91-122 cm)
Senior (60 yrs. & up)

Adult

Child(91-122 cm)
Senior (60 yrs. & up)
Entrance Fee with Rides Only
1,000
600

920

550
- Customers can get more details here. www.vananavahuahin.com/