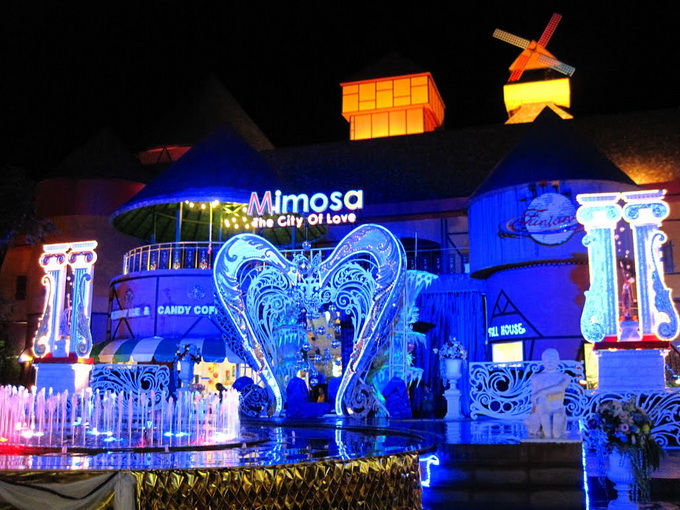 Description :
Mimosa Pattaya is a new attraction and shopping area not far from Pattaya city. With its interesting architecture, Mimosa can deliver good atmosphere and spots for visitors to take photos. There are also massage shops cafe and several other relaxing spots, in other word, this place is another place for visitors who would like to enjoy an alternative atmosphere when coming to Pattaya city. The location of Mimosa is just opposite to Ambassador City Jomtien Hotel.

Mimosa Pattaya was established with approximately 1 Billion investment to create a new attraction on the area of about 17 acres (40 Rais). It was built under the concept of "The City of Love" (providing various ankles of love aspects) through arts and architecture decorated. The architecture of building and structure here are in ancient France style. The official of opening for tourists to visit is 14 FEB 2013.

The atmosphere of Mimosa is just like chic shopping area decorated with a little natural circumstance. With the concept of love city, there are a lot of wedding photos hanging on many places in the area. There are also spots of interesting objects for visitors to take photos. A small canal in the middle of the area is a major decoration to make this place look more relax and comfortable to walk around. On its main walkway, there are buildings facing towards one another, where the buildings are mainly restaurants and shops, so not only are products available in Mimosa, but there are also places to eat include bakery, cafe and food center (coupons needed). Besides, sometimes visitors can see shows at the stage in the area.

Mimosa Pattaya is located opposite to Ambassador City Jomtien, open from 11.00-23.00. Those who drive from Pattaya can drive there via Sukhumvit Road. On the other hand, those who do not have a private car can go to Mimosa by White Songthaew, which is able to take at Sukhumvit Road in the city (by the way to Sattahip). 

Note that Mimosa now is still under construction in some part.

Show time 05.00 pm , 07.00 pm.
Description
Walk in Rate THB

Net Special Price THB

Adult / Child

Adult / Child

1.Entrance Fee + Mimosa Show
300

150

2.Entrance Fee +

Mimosa 3D Gallery



100

90

3.Entrance Fee + Cyrus ATV (15 Minutes)
500

450

4.Entrance Fee + Mimosa Show + Cyrus ATV
800

530

5.Entrance Fee + 3D Gallery + Mimosa Show
350

250

6.Entrance Fee + Mimosa Show + 3D Gallery + Cyrus ATV

900

600
-Children below the height of 120 cm. free entry
Customer can book by as follows :
Line id : 0816647777
What app : +66816647777
E-mail : vanthaitravel@gmail.com
Add friend click
Please provide the following information:
Mimosa Pattaya
Date of travel :
Customer name (Full name matches the passport.) :
Number of travelers (Adult and Child) :
Phone :
Country :
We will provide confirmation within 12 hours